After just five days on the streets of Athens, the University of Georgia confirmed a partial ban on the use of Bird scooters on campus, except for riding on roads, citing safety concerns. The company has responded in turn by asking users to lobby the university.
"In accordance with UGA's rules and regulations, Bird scooters cannot be parked or set down on campus, including parking lots, bike racks, sidewalks and landscaped areas," said UGA Executive Director for Media Communications Greg Trevor in an email on Aug. 20. 
The policy is not limited to parking, however, as users are prohibited from riding the scooters through campus unless on public roads. The scooters will be viewed by UGA no differently than a car or motorcycle.
"Anyone who chooses to ride scooters should follow the same road rules as they would for any vehicle," Trevor said. "Scooters are not allowed on sidewalks or in common areas."
On Aug. 22, UGA public relations manager Rebecca Beeler confirmed that UGA has also started impounding the scooters when parked in a way that violates laws or university policy. Accompanying fines must be paid by Bird for the scooters to be released.
"Consistent with Transportation and Parking Services rules and regulations, any vehicle, including motorcycles and scooters, parked in an illegal or unsafe manner at any time is prohibited and will result in violations and removal," Beeler said in an email. "Leaving scooters on sidewalks, grass, stairwells, decks or similar situations will result in violations and removal as well."
In an email sent to users on Aug. 22 with "Save Bird at UGA" in the subject line, Bird asked riders to email UGA officials and "tell them that you support Bird on campus."
"It's essential that your campus officials hear from students, faculty and staff who rely on Bird as a convenient and affordable means of sustainable transportation. If you don't take action, Bird could be gone from UGA's campus forever," the email reads.
The electric scooters, which have a maximum speed of 15 mph, are located using an in-app map and then "unlocked" for $1 by scanning a QR code. Once unlocked, Bird charges 20 cents per minute to ride a scooter.
Bird's sudden appearance around town coincided with a nationwide "University Pop-Up Tour" announced in an Aug. 16 press release.
"Whether it's making it to a class on time, clocking in for work or simply getting to campus from the nearest public transit stop, Bird will help eliminate transportation gaps so students and faculty can focus on what really matters: education," said CEO Travis VanderZanden in the release.
Zac Townsend, a junior sports management major, said he's only ever used them for entertainment, describing the scooters as an "Uber version of Pokémon Go."
"I haven't used one to get to class, [but] I think that was the main purpose in bringing them here," Townsend said.
While he said he would never buy an electric scooter, Townsend said the "very reasonable price" of renting one of Bird's scooters has made him consider taking one to class.
Maddie Clawson was taking her first ride when she told The Red & Black that she too was trying it out for fun but might use it to get to class.
"I'd ride on the sidewalk. Definitely not Milledge or Broad. … If there's a bike lane I'd probably do it," Clawson said.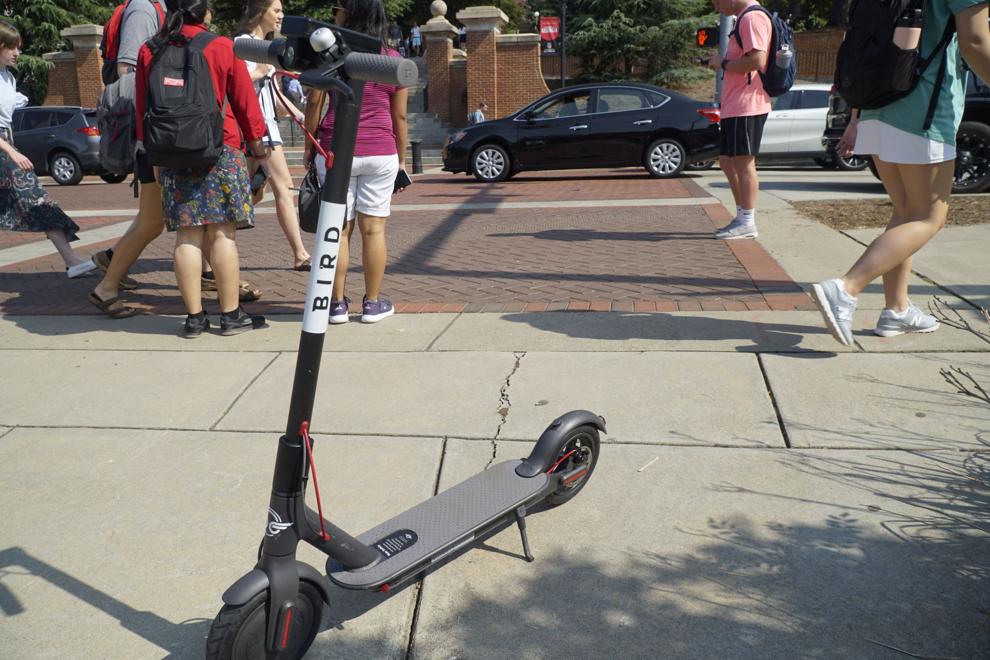 A swarm of scooters 
VanderZanden, a former Uber and Lyft executive, founded the California-based startup last year. It was valued at $2 billion in June, according to Fortune.
The scooters are collected and charged overnight by gig workers who return them to the streets in the morning. They are available for use from 7 a.m.-9 p.m. 
Bird wasted no time recruiting chargers in Athens, with recruiters posting soliciting messages on social media in recent days.
The scooters can technically be left anywhere, but a fully charged scooter lasts 15 miles.
Bird had previously been introduced in Atlanta, along with 33 other U.S. cities. 
The company has faced backlash in several municipalities and universities across the country, as riders have obstructed public pathways with parked scooters or caused accidents.
Several city governments have banned the scooters to review plans to regulate their use. A "Bird Graveyard" Instagram page posts submissons of vandalized scooters — set on fire, buried in the sand and smeared with feces.
Screeching to a halt?
As of Aug. 21, Athens-Clarke County Police had not taken any enforcement action on the scooters, according to Epifanio Rodriguez, ACCPD public information officer. 
However, Rodriguez reminded riders it is illegal under state law to drive motorized vehicles on sidewalks and illegal under Athens-Clarke county ordinance to park them there.
"Scooter riders who are operating on a sidewalk or who are found to be in the act of parking a scooter on the sidewalk may be cited," Rodriguez said in an email.
The mayor and commission's Legislative Review Committee is set to examine the issue of "motorized vehicles on public property," including golf carts, scooters, mopeds and segways on Thursday, Aug. 23. Mayor Nancy Denson assigned the topic to the LRC in March.
ACC Public Information Officer Jeff Montgomery said in an email on Aug. 21 that he has personally identified safety issues, claiming "a flock of riders didn't yield to me as a pedestrian on Friday evening downtown with a green crossing signal and nearly hit me."
Montgomery said on the day the scooters arrived ACC was just as surprised as the rest of the city to see people zipping around town.
"I — and many others on staff — became aware of the Bird scooters being in Athens [Aug. 16] when they simply showed up around town," Montgomery said.
ACC has been trying to contact Bird to inform them of their concerns.
"As of earlier [Aug. 21], we hadn't heard a peep back from them," Montgomery said.
---
Correction: In a previous version of this article, The Red & Black misprinted the date the first quoted email quoted was sent on. The email was sent Aug. 20, not Aug. 23. The Red & Black regrets this error and it has since been fixed.