With Student Government Association campaigns underway at the University of Georgia, the ACT and Empower executive tickets debated health, campus safety and diversity at the SGA executive ticket debate hosted by Georgia Political Review.
It's election season for the Student Government Association at the University of Georgia. The Red & Black has you covered for all you need…
Asim Ahmed, ACT presidential candidate, gave the opening statement for his ticket, which focused on awareness, advocacy and accountability.
"We cannot advocate for students on different backgrounds unless we actually bring their voices into the conversation," Ahmed said. "We're going to … create specific tangible policies that recognize and adhere to the needs and problems that students face."
Rachel Byers, Empower presidential candidate, delivered her ticket's opening statement, focusing on the campaign's "bridging the gap" message.
"We feel like there are students on this campus who really felt alone in their struggles," Byers said. "We really see that SGA can step in and bridge that gap with them and give them the resources to make their voices be known."
Mental health
Empower wants to create a "robust referral system" to address the need for long-term mental health care, said Empower Vice Presidential candidate Melissa Hevener. 
"We see that a lot of students are coming to CAPS in need of long-term care but only receiving that short-term care," Hevener said. "We want to ... partner up with the University Health Center in order to create systems so that we can refer people that need resources."
ACT Vice Presidential candidate Charley Claudio acknowledged SGA cannot "single-handedly increase" the UGA Counseling and Psychiatric Services budget, so her ticket wants to encourage the university administration to provide these resources.
Campus safety
On behalf of ACT, Ahmed said he hoped to expand "It's On Us" week into a larger awareness initiative and promote awareness of resources that already exist on campus, such as the Equal Opportunity Office's bystander intervention programming. Hevener said sexual assault prevention was central to the Empower platform.
"[With sexual assault,] we want to make sure we are more proactive than reactive," Hevener said. "[We want to] make sure that students know that medical amnesty exists and look at ensuring that the appropriate programming exists in residence halls and Greek houses … so that we're changing the culture of sexual assault on campus."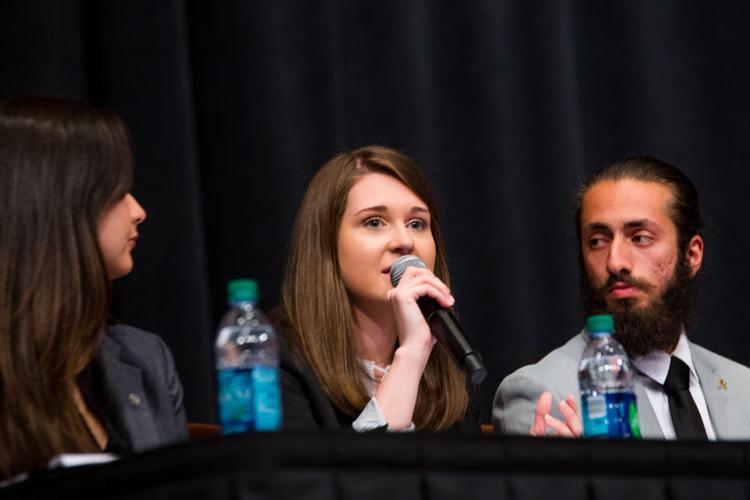 In a later question about safety, Byers said she wanted to promote positive relationships with police to foster a sense of security.
Dining halls
In response to a question about ACT's plan to create a plan about a food affordability coalition in her administration's cabinet, members of ACT praised the current administration for its work in addressing food insecurity through its meal swipe initiative to turn unused swipes into scholarships and added that they envision the coalition as a group of students working with dining services to expand that work.
Given their meal swipes initiative, Empower was asked if their ticket was aware of problems faced by the current administration in implementing the policy, as reported by The Red & Black.
Empower Treasurer candidate Nav Singh answered that they were aware of the possible financial aid problems posed by donating meal swipes. Singh said they wanted to continue conversations with Dining Services to specifically implement ways to donate swipes to the food pantry and allow students to "pick up swipes" from there.
Through an audience question submitted by an unnamed administration member, Empower was asked how its presidential candidate Byers, who serves as a director of engagement in the current administration's cabinet, has worked on initiatives similar to some of Empower's platform points, including meal swipes, increasing the CAPS budget and promoting the availability of menstruation hygiene resources. In a previous interview with The Red & Black, Byers said she had not personally worked on the meal swipes policy.
Hevener responded first by saying her administration wanted to continue the work of the previous administration's initiatives. Byers did not address her extent of involvement at the debate but added that her ticket would not be on stage if they did not see "gaps and issues that students face."
Empower spokesperson Max Harris addressed the menstruation hygiene similarities in an earlier statement to The Red & Black.
"While women comprise over half of UGA's student body, we believe UGA still has work to do to eradicate sexual assault and improve access to feminine hygiene products and hygienic disposal methods that are still not present everywhere they should be," Harris said. "We will begin this work by prioritizing two ongoing initiatives: the Bulldog Basics program, which maintains closets around campus stocked with hygiene items, and Resolution 31-12, which urges the University to fully stock feminine hygiene products and install trash receptacles in every appropriate UGA restroom."
Diversity
Candidates fielded many diversity-themed questions, including one regarding their thoughts on whether they would allow DACA recipients to attend UGA if given the choice. Currently, DACA recipients are barred from attending the top five University System of Georgia schools per state law, and UGA SGA has no input over the situation. Regardless, both tickets answered affirmatively.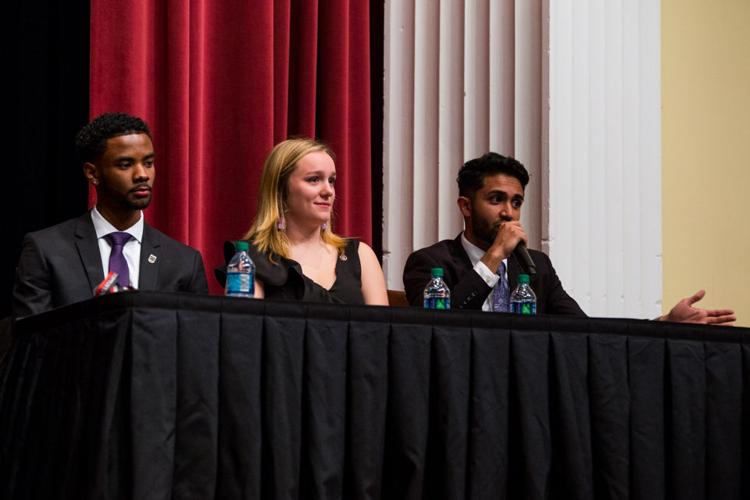 In response to a question about student-athletes kneeling during the National Anthem in protest of Confederate monuments, Byers said that her ticket "would stand behind students," adding that contributions by enslaved people at UGA cannot be ignored.
Treasurer candidate Wesley Tillman said ACT would also stand behind any students in that situation and proposed bringing awareness to the issues affecting minority students, including establishing a slavery commission.
In a later question, ACT was questioned on what exactly the slavery commission would accomplish. Tillman said the commission would contribute to the platform point of accountability, by holding UGA accountable for its past.
Later in the debate candidates were asked how they would acknowledge UGA's history of racism and marginalization.
Claudio, on behalf of ACT, began by acknowledging that UGA is only seven percent black in a state almost one-third black.
"We have to start [thinking about why] this university is not appealing for students of color and why they don't want to come here," Claudio said. "How can we make this an environment that is conducive for success and safety for students of color?"
Tillman added that the use of racist historical figures around campus was disrespectful to students of color, and UGA should work on new ways of honoring its past.
Citing personal experience, Tillman said he lives in Vandiver Hall, which is named for former Gov. Ernest Vandiver who was remembered in his New York Times obituary for his "no, not one" stance on desegregation.
Speaking for Empower, Byers said SGA should work with the administration to find ways to acknowledge and move forward from racist chapters in its history.
"There were enslaved people who made this university the one we love so much and call home," Byers said. "It is not something we need to ignore or pretend didn't happen just because it's not pretty, and it's honestly not fun to talk about. There may be students who want to come to UGA, but they don't necessarily feel included."
Audience questions
In response to a question about the current administration's proposed A-plus grading system, Claudio said ACT opposes the policy because it "benefits people of privilege the most" because privileged people are more likely to do well in easier intro-level courses. Claudio further said her ticket had concerns about potential negative effects on mental health.
"[The A-plus system] is a huge mental burden that we feel should not be placed onto students when we don't even have enough resources for CAPS," Claudio said.
Byers said she understands the arguments in favor of and against the A-plus system, so she said she wants to see survey data on student input before taking a position.
The current administration recently sent out a survey asking for student input on the proposed policy.
When asked how resident assistants are paid partially through meal plans, Claudio said ACT would address RA voices and bring their concern to the university administration. Byers said Empower would advocate for options aside from the 7-day meal plan requirement for RA's.
In response to a question about the recently passed SGA amendment to change the role of the vice president, Hevener said her ticket respected and supported the agenda of the Senate.
Claudio said she also respected the Senate vote was excited to take on the newly redefined role of vice president. If the amendment is ratified, the vice president will no longer preside over the Senate and will now oversee special projects.
After the audience question section, tickets were given time for closing statements. Byers reiterated Empower's goal of "bringing it back to the students," while Tillman promised the audience ACT would follow through on their promises.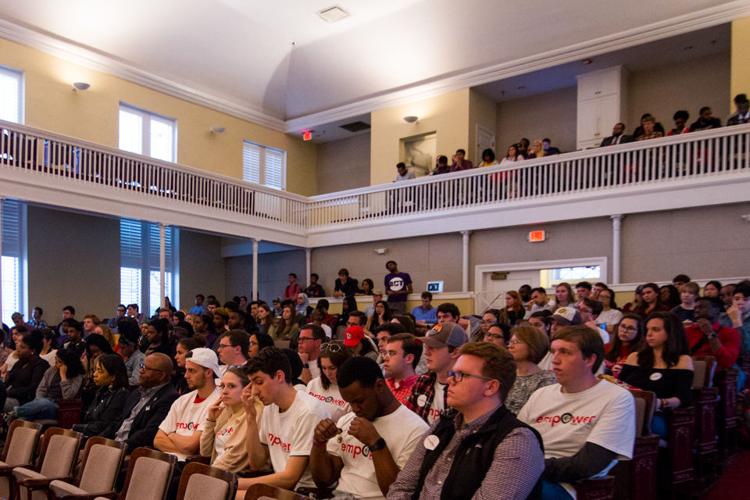 DeAndrea Shields, a junior exercise and sports science major from Columbus, thought of Ahmed and Tillman as leaders in high school, where she befriended them.
"I can't think of anybody better to represent the University of Georgia and to represent its constituents as well as they can," Shields said.
Johanna Mercurio, a junior from Dacula majoring in psychology, along with human development and family sciences, said she thought Empower performed well and the format of the debate allowed the audience to get to know the candidates better.
"I think Empower [answered questions] that really hit home the platform of inclusivity and making sure that resources and people are being reached out to," Mercurio said.
Elections begin Monday at 8 a.m. and end Wednesday at noon on the UGA Involvement Network. Follow @redandblack on Twitter for UGA SGA breaking news and updates.