Soheyla Amirian was on the phone with her sister when their call was cut short by the 7.3 magnitude earthquake shaking the border between Iran and Iraq. Amirian said the call lost connection after her sister began screaming that everything was trembling.
After the call was lost, Amirian, a University of Georgia computer science Ph.D. student from Iran, said she tried calling her sister several times. When she didn't answer, she began calling her other family members and friends.
"Nobody answered," Amirian said. "I was just crying, I didn't know what to do. I was just waiting to hear the news from them. I kept calling my family, my friends, my colleagues."
The earthquake struck on Sunday, Nov. 12 near the Ezgeleh, Iran, killing at least 530 people and injuring at least 7,460 more in Iran. At least eight people were killed and 535 injured in Iraq as well, making it the world's most deadly earthquake in 2017, according to the New York Times.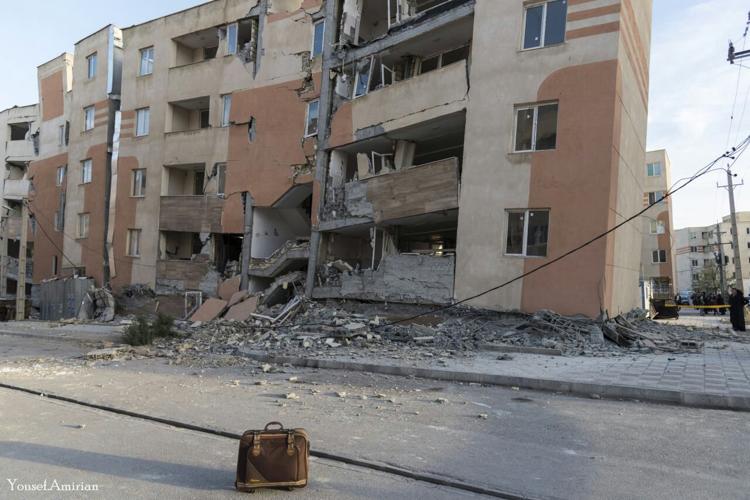 The earthquake was followed by more than 100 aftershocks, and could be felt as far as the Mediterranean coast, according to Time Magazine.
Luckily, Amirian said her family and friends survived the earthquake, but as they mourn the loss of others, she said it is important to help in any way they can.
"All the news are bad, and all of it is very sad and depressed, and I can't do anything for them. When I read them I start crying," Amirian said. "Sometimes I feel I'm helpless, but I try to do my best from here just to encourage my family and my friends to help. When I go back in December surely I will help too, especially the children."
Once she was able to get in touch with her family, Amirian said they told her more details about what was going on in her town.
"The thing that made me very sad in the panic, was they have a lot of stress after the main earthquake because of the trembling, the aftershocks," Amirian said. "The first night after, they slept in the street, and no one went to their homes or anywhere."
Despite the devastation, Amirian said she takes comfort in the response from the people in her country as they work to help everyone recover.
"The bright side is that there are a lot of good men around helping, and they've started constructing small homes for them. Everyone, all of them are helping," Amirian said. "I've heard some people are cooking for others, too."
Even in Athens, relief efforts are being made to assist those impacted by the earthquake.
Mehrsa Baradaran, a UGA School of Law professor from Iran, started a Gofundme page in order to raise money to help with relief efforts. As of Monday, Nov. 20, the page has raised $1,575 in four days.
After hearing some U.S. groups were unable to get aid through to Iran, Baradaran said her and her father, who is from the region where the earthquake hit, decided to send money to their relatives in the area.
"My dad is from that area, the area on the border of Iran and Iraq, we have a ton of family still in the area," Baradaran said. "My dad has contacts there, so he was sending money to them to help get water and food and shelter. These people have nothing right now."
Using his connections in Iran, Baradaran said her father has been able to get money to people in need despite sanctions making it more challenging. Baradaran said she decided to ask others to donate as well.
"I gave money, and I thought I would open it up to people who might also want to help," Baradaran said. "With Iran it's very, very tricky. Even getting funds to me from Venmo and Gofundme, they flag everything with Iran."
Baradaran said the donations will be going directly to her father's friends, who will use the money to help those who were impacted by the earthquake.
Although she has surpassed her goal, Baradaran said she will send whatever money they get to areas in need.
"I kind of put a modest cap of $1,500, but of course as much money that comes in, we can funnel to the area," Baradaran said.
Baradaran said she was "blown away" by the response of people in Athens to her request for relief donations and that the community's concern for Irani citizens has left her feeling optimistic.
"At times, you get this depressing sense that people just don't care about the suffering in the Middle East because of our political rhetoric," Baradaran said. "I think that this campaign shows a different side. There's a lot of people who feel like we're all in this together, so when there's suffering in Iran it's like there's suffering in Athens, so when we can help we do it."