Over 30 University of Georgia students are helping map community resources in response to COVID-19.
The map was created by GroundBreakers, which is a global network of local leaders in 51 countries, according to co-founder and UGA alumna Rara Reines.
Volunteers pull the locations of resources like employment centers and COVID-19 testing centers from pre-existing government databases to compile a national map of community resources.
The map, which was started in early March, currently has over 14,000 views and includes over 30,000 different resources that are updated on a daily basis.
"We have really been evolving alongside the crisis," said Reines, who co-founded GroundBreakers alongside Sebastian de Beurs in 2017.
The GroundBreakers team has developed a network of college students, mainly at UGA and the University of Texas at Austin, de Beurs' alma mater, who have volunteered their time to help map their communities.
"A lot of college students have been willing to help now that they have more free time," Christopher Rosselot, a sophomore international affairs major at UGA, said. Rosselot serves as a social impact fellow at GroundBreakers.
Rosselot initially led the coordination of mapping the U.S., guiding other volunteers in mapping their communities and verifying community resources. He has helped to bring in more student volunteers from UGA and now oversees data addition to the map.
Every day, volunteers verify and add information about new resources to the database, Rosselot said. In addition to the data they find in pre-existing community lists and datasets, they work with local groups and volunteers to identify and locate resources in their communities.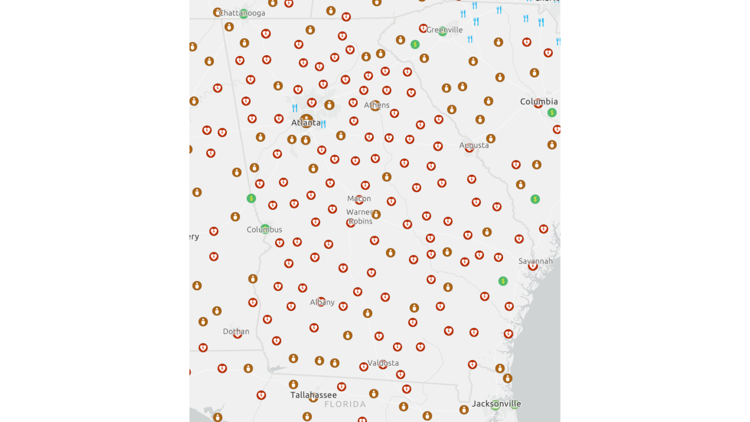 Reines said they collaborate with community leaders and local groups who have aggregated their own data, and use data from national and international organizations.
"The map reflects this balance of big datasets and local knowledge," Reines said.
In addition to permanent resources in Athens such as the Clarke County Health Department, the Georgia Department of Labor Athens Career Center and the Food Bank of Northeast Georgia, local volunteers have helped map several temporary programs. These include meal relief programs, economic support funds and a mutual aid group, including one set up specifically for Spanish speakers in the Athens community.
All of the data points are labeled by type of resource as well as whether it is a specific response to coronavirus or a permanent resource. The team has recently added a category called "personal safety," which aims to provide resources for victims and survivors of domestic abuse.
Reines said it is important to differentiate between permanent resources and responses to COVID-19.
"We may be seeing the effects of the pandemic for 18 months or two years in different ways," Reines said. "We will need these resources for a long time."
As they continue expanding their map, GroundBreakers is asking Georgians and people nationwide to add community resources to the map.