Although more students are admitted each year, with 5,700 freshmen admitted this year compared to 5,150 in 2008 and 5,200 in 2013, the amount of parking spaces on campus has remained the same in recent years. The number of parking spaces on campus is less than half the combined population of students, faculty and staff at the University of Georgia. With limited spaces and construction of parking lots, some students are left with the dilemma of where to park. 
Parking in lot E01 near the Intramural Fields was obstructed by construction that took place from July 19 to Aug. 15, cutting into the availability of spaces during the first week of the semester. The construction came as a surprise to some students. 
Caleb Anderson, a junior communications major from Canton, said he wasn't warned about the construction. 
"There were several people driving around — me included — that were looking for a place to park, but everything was full," Anderson said. "What was really annoying is that there were tons of spaces that would have been open but were blocked off for construction, so many of us had to park illegally."
Because he was unaware of the construction, he was late to class the first day of the semester. 
Although he and others were unaware, permit holders to this lot were given temporary alternative parking in the Intramural Parking Deck, said Allison Brannen, marketing and communications manager for Auxiliary Services. This deck is permit-only.
The construction involved the installation of additional lighting "in response to student requests for safety and visibility improvements to the area," Brannen said. 
In hindsight, Anderson thought the construction would have been completed prior to the school year since "they had all summer."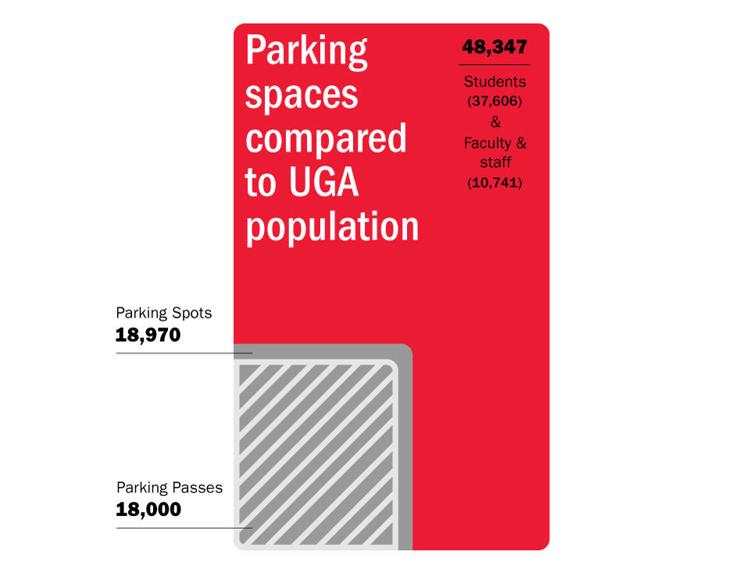 In addition to limited parking due to construction, some students were not awarded parking passes in general. 
Jin Soo Park, senior management information systems major from Lawrenceville, commutes to campus but wasn't awarded a parking pass. 
Park applied to the Hull Street and North decks, but when he found out he wasn't awarded a pass, he contacted parking services. 
"The parking office employee on the phone told me I should give up on those because I was waitlist number 900 for Hull and 400 for North Deck," Park said. 
The employee recommended he change his preferences and apply for lots near the Intramural Fields, but parking there would add 30 minutes to his commute since most of his classes are on North Campus, Park said. 
"I believe [UGA] this year is having a parking spot crisis due to possible overpopulation," Park said. "I had to search and search until I found a parking pass for sale by an apartment complex on [the] east side of the campus, which wasn't cheap."
Park paid $300 for the semester. 
Todd Berven, associate director of TPS said 18,000 semester-long permits were assigned total to students, faculty and staff.
As of Aug. 22, parking permits were not sold out, Berven said.
"They're not the most pristine area that you wanna be parked at on campus, but there are permits available. We're not completely sold out," Berven said. 
TPS will continue to assign permits throughout the semester as they become available, Brannen said.
There is no data on how many students bring cars to campus, Berven said.
Aside from changing lot preferences to better the chances of getting a permit, TPS encourages students to take advantage of other parking options, such as the new Park-and-Ride lot on College Station Road, Athens Transit and bicycling or walking. 
Another parking lot construction project will affect drivers in lot S06 near the statistics building in December. 
"As is standard with any campus construction, S06 permit holders will receive temporary parking assignments," Brannen said. " S06 permits were assigned only for the fall semester and, prior to registration, permit holders were notified that temporary assignments would be issued in the spring."
Aside from construction on lot S06, TPS is not aware of any other construction on parking lots or decks, according to Berven. There are no plans to build new lots.