A plan to add more electric buses on campus adds another superlative to the University of Georgia's reputation — the largest fleet of electric buses of any university in the nation.
Director of UGA Transportation and Parking Services Don Walter couldn't contain his excitement when talking about this sustainable initiative.
"This is really cutting-edge technology," Walter said. "We have people from all over the country calling us and visiting us."
The university currently has eight Proterra buses at its transportation facility along with 12 charging stations. Thanks to federal and state grants, UGA will have 33 zero-emission electric buses by 2021. This will account for a third of the total fleet, and the university will start phasing out diesel predecessors, Walter said.
"We don't ever plan on buying another diesel bus," Walter said.
The campus transit facility has 12 charging stations which can handle up to 48 buses.
This past week, Walter said they had electric buses on the Orbit route and campus tours. Hiccups occurred on Feb. 11 and 19, when two different buses had the same problem — a loose bolt on their doors.
UGA is the first system to test the Proterra Catalyst E2 buses, and Walter said UGA maintenance has helped recommend modifications on the new model.
The funding for the buses comes from a $10 million Georgia State Road and Tollway Authority grant and a $7.56 million U.S. Transit Administration grant. UGA matched 30% of this grant funding.
The first state grant was announced in 2016, and Walter said UGA spent time researching the options before purchasing.
"Electric bus technology was also evolving rapidly — the longer we researched, the better the buses were becoming," Walter said.
The electric buses cause an enormous cost savings for the university in addition to their environmental benefits.
Diesel buses cost $100 per day to run because of gas, while the electric buses cost $5-10 per day to run, Walter said.
The electric grid will power the buses at the Riverbend Road Campus Transit facility. Walter said UGA receives reduced electricity rates from Georgia Power because they charge the buses at night when electricity is in less demand, so it's cheaper.
Because the electricity comes from the grid, the zero-emission buses aren't powered by renewable energy. In Georgia, natural gas generates about 40% of electricity and coal generates about 25%. Renewable energy generates only about 8%, according to Georgia's 2018 profile in the U.S. Energy Information Administration.
"While there is still that connection to the grid, it is a lot more efficient compared to standard diesel coming directly from the buses," said Blake Ginn, a senior environmental engineering major working on his engineering capstone with transit. "There is still significant greenhouse gas and overall pollutant emissions that are being reduced by the buses."
Ginn and four other engineering students are redesigning the campus transit facility to add solar panels and increase safety and efficiency as part of their year-long capstone project requirement. Walter plans to use these designs, and Tala Sidawi, a senior environmental engineering major, said he always tells them to think "big picture."
"He really, really meant 'big picture,'" Sidawi said. "They want to go the whole nine yards on this project, so we're really lucky as well to have this unique situation where the client is so open and really wanting us to take it even farther than we thought."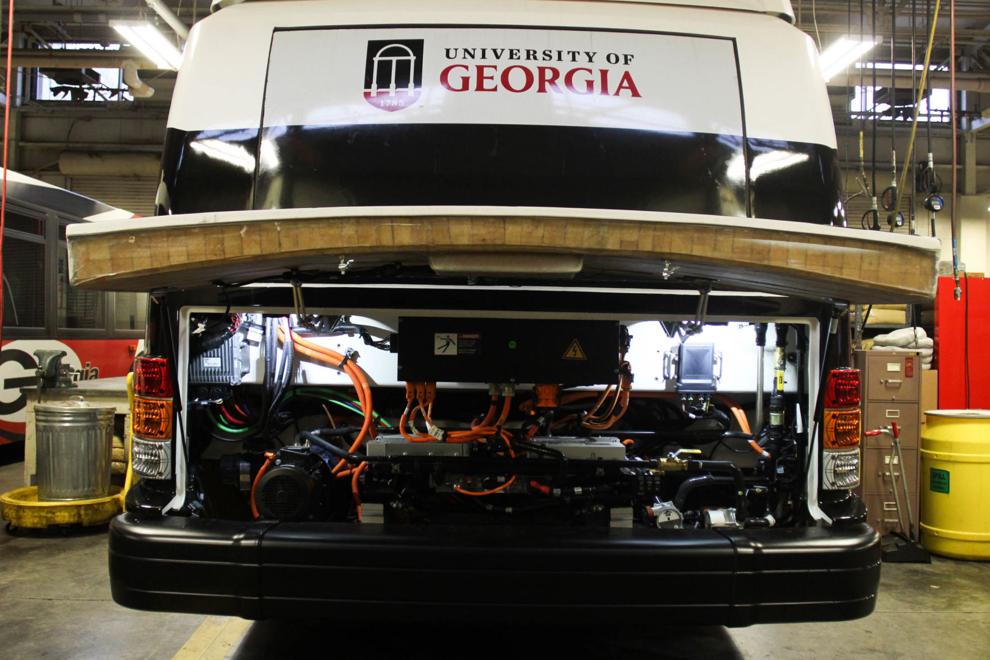 When solar power is implemented at the facility, the solar energy will go back into the grid, the engineering students said. UGA will add more energy into the grid than it takes out by charging the buses, meaning they would make money to charge the buses instead of spending it.
Already, maintenance costs from diesel to electric are expected to decrease from $22,500 per bus, per year, to $7,500 because there are no transmission repairs, exhaust problems, oil changes or brake strain, Walter said.
The difference between driving diesel and electric buses mostly comes from how drivers should handle the brakes.
Electric buses have a regenerative brake system, so the inertia from the bus coasting recharges some of the battery. Walter said training for driving an electric bus focuses mostly on how to brake less, since drivers are used to hitting the brakes a lot on diesel buses.
Walter said about half the drivers are trained and once they train all 150 of them, they'll be able to start regularly running all the electric buses they have.
"We want every driver to be completely comfortable when they get on that bus," Walter said.
Drivers have some classroom and operation training, which takes a couple of hours. UGA students should see more and more electric buses in the coming months.
The buses can last a full day on one charge and possibly two days depending on the driver's braking habits. For the first route test on Feb. 10, the Orbit electric bus operated all day and used 49% of its power, Walter said. The bus has about a 320-mile range, according to Proterra, and fully charges in about three hours.
Walter said drivers and students will probably enjoy the ride on the electric buses more, too. The bus is much quieter than its diesel counterpart, and it produces an external beeping noise when the turn signal is on to alert pedestrians.
The outside is made of a strong composite fiberglass and carbon fiber material and has two motors behind the back wheels. Its 500 horsepower engine is twice that of a diesel bus, and it's five times more efficient, according to a UGA press release.
"This is the best bus ever built," Walter said.
The electric fleet will be a step toward meeting UGA's Campus Sustainability Plan, which aimed to reduce greenhouse gas emissions by 20% in 2020. According to the plan, 14% of emissions come from campus transportation.