On March 12, the University System of Georgia agreed to the healthcare demands of the United Campus Workers of Georgia Graduate Student Committee after their health insurance premiums rose 345 percent for their spouses and children in for the 2018-2019 school year.
The Graduate Student Committee sent a letter to the University System of Georgia on Dec. 10, 2018. This letter detailed a list of demands by the Committee, each with a prevalent theme of increased communication between graduate students and the university.
USG wrote a letter in response to UCWGA on March 6. Within this letter, USG agreed to improve communication regarding future plans about health insurance premiums. USG agreed to form an Advisory Committee made up of representatives for graduate students, faculty and staff. USG also agreed to provide a member of its staff as an intermediary for graduate students concerning their health insurance claims.
Annelie Klein, a member of UCWGA and the graduate coordinator assistant in the College of Pharmacy, explained that better communication between the university and its graduate students needs to come first.
"We're working for more communication where we actually have a chance to voice our opinions, participate in changes, have a chance to discuss when they're implementing new ideas and new changes," Klein said.
In the past, UGA made changes without much input from faculty and staff, Klein said. In 2016, more than 3,000 workers, largely low-wage workers, received reduced paychecks due to changes in the Fair Labor Standards Act.
The changes regarding the health insurance premiums spurred protests by UGA graduate students.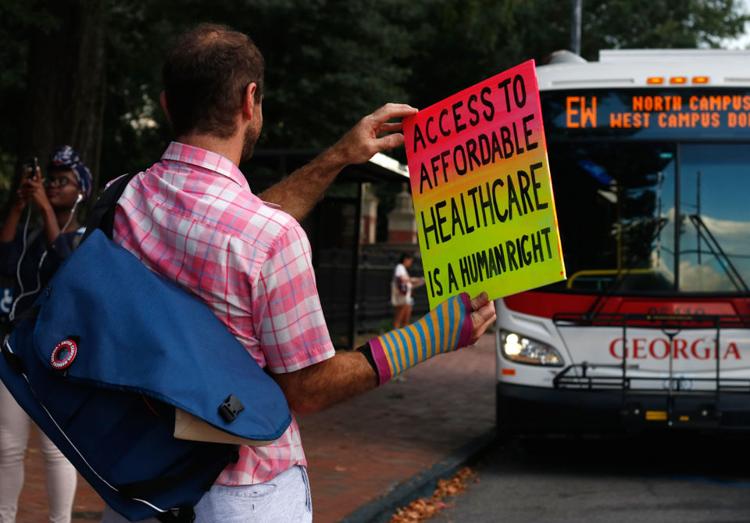 "As a graduate student … their lives are very, very busy, and I find it grotesque that they would even be subject to UGA not even explaining that change," Klein said.
Justin Simpson, a UGA graduate student and member of the UCWGA Graduate Committee, had heard about the premium change last year in passing. He only really became aware when his fellow graduate students explained their grievances about the situation, specifically those who were married. The increasing number of spouses signing up for the university's health insurance caused the jump in price.
Simpson was thrilled by the news and said this response was a big first step for the university.
"I was in class at the time and had received a call saying 'Check your mail! Check your mail!'" Simpson said. "I thought it was so important for one, the fact that the university is like reaching out and taking seriously the concerns of graduate students."
In addition to USG agreeing to improve communication, they have also agreed to address mental health coverage for students and dental insurance, Simpson said.