With eight other candidates seeking the Republican nomination for Georgia's 7th Congressional District in the 2020 election, Lynne Homrich, a former Home Depot executive and social entrepreneur, spoke to the College Republicans at the University of Georgia on Jan. 22 to garner support for her campaign, marketing herself as an outsider who wants to "shake things up."
During her speech, she featured an ad from her campaign that showcased clips of Reps. Alexandria Ocasio-Cortez, Ilhan Omar and Rashida Tlaib — with Homrich saying, "If your kids behaved like these women, you'd ground them. If they worked in your business, you'd fire them." Homrich also called for electing more women with "with conservative values, common sense and real-world experience" in the ad.
"I'm the only one in our campaign taking shots at Washington. Everybody else who's running sees this as the next step in their career. I'm not going out there to advance my career, I already had a great career," Homrich said during her speech. "I'm not interested in playing by the rules up there. I want to get things done. I want to stir the pot."
In 2017, Homrich founded "She's a 10," a non-profit organization that hosts educational workshops to counteract women and girls' negative perceptions of their bodies. Homrich previously served as Home Depot's Vice President of Human Resources until 2002, additionally noting that Home Depot founders Bernie Marcus and Arthur Blank both have donated to her campaign.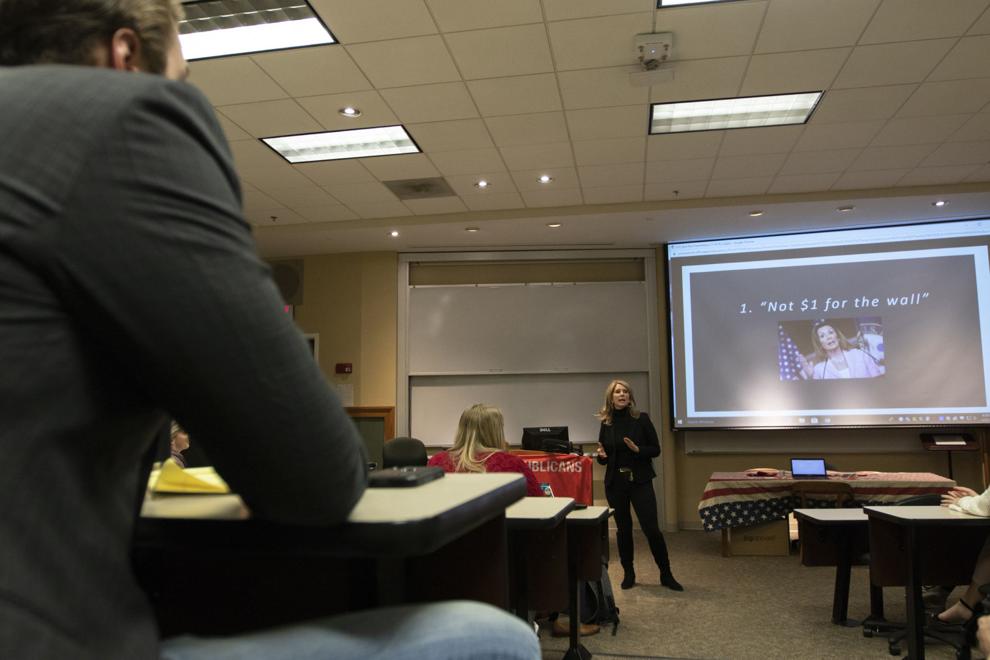 For the first reason she decided to run for office, Homrich cited the 2018 federal government shutdown, in which she claimed was caused by House Speaker Nancy Pelosi's refusal to grant President Donald Trump funds for a southern border wall. Additionally, she expressed admiration for what she called Trump's disruptive effect on "the establishment" while acknowledging his controversial nature.
"The history books will reflect that this is the beginning of the end of politics as we know it. Things are changing, people aren't playing by the rules anymore that they're supposed to be. And I think this is a fantastic time for our country," Homrich said.
In February last year, District 7 Rep. Rob Woodall announced he would not seek reelection in 2020 after narrowly securing a win against Democrat Carolyn Bourdeaux by 433 votes in the closest congressional race in 2018, according to Ballotpedia.
Citing the previous congressional race's closeness and the district's changing demographics, Homrich said her campaign is about keeping the 7th District in "Republican hands."
"People are moving in to a great area to raise [families], work and live. They're moving in and they're bringing their politics with them. They're bringing their liberal beliefs with them," Homrich said. "Now, they're failing to make the connection that the reason it's a great place to live and work is because it's been run by Republicans for years."
Will Vermeulen, the College Republicans' activism director and a third-year political science major, appreciated how Homrich's background in business influenced her view of politics.
"It was a very productive meeting and what it really did was set a good precedent for the rest of the year," Ver Meulen said. "With the election season right around the corner, it's going to be a really critical time for us to bring politicians in to speak."
Next week, the UGA College Republicans will host District 7 Republican Candidate Rich McCormick, UGA College Republicans Public Relations Director Bryson Henriott said. The Republican and Democrat primary elections are scheduled for May 19.