Take a walk down East Clayton Street. Pick between the fried chicken, the cookies, the calzones, the burritos, the pizza and the giant sandwiches. And then pick up some Pepto-Bismol for the walk home.
From the recent arrival of R. U. Hungry, Eddies Calzones and the upcoming opening of Zaxby's, downtown Athens is losing its healthy taste and providing a difficult place for those trying to eat right.
These restaurants are offering menus that caters more to those who want a cheaper and quicker meal. One of the biggest reasons students tend to gravitate toward those restaurants is because they are trying to save money, as cost often takes precedent over health.  
"For the majority of college students, I would definitely say they lean more towards the unhealthy options because it's cheap and fast," said Madeline Lee, a sophomore risk management and insurance major. "No one has time or money to eat at Five Bar or Last Resort Grill for every meal they eat downtown."
The new restaurants also tend to cater to late night crowds. Their closing hours are usually at 3 or 4 a.m., which makes them a prime option for those out late studying or hanging out downtown.
The manager for Eddies Calzones Thomas Morse said that they do have local regulars who come during the lunch rush, but most of their business occurs at night because of how active the late night scene is in Athens.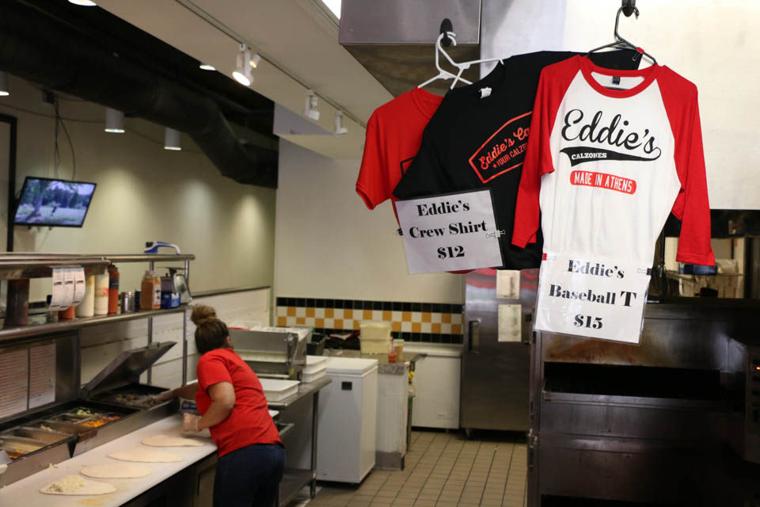 "Drunks love cheap, greasy, not good for you food," senior women's studies major Kate Collins said. "And with Athens having one of the best bar scenes in the country, these businesses know what they are doing and know how to turn the best profit."
The emergence of these restaurants, and their easy appeal to students, has created more competition for the healthier, local eateries. However, some students believe that poor eating is a choice and can't be blamed on surroundings alone.
"People are aware of what choices they make when selecting where they should eat," Lee said. "If they are adamant about making healthy choices, I don't think the new addition of unhealthy restaurants would stop them from doing so."
All restaurants seem to have support from regular customers, regardless of being healthy or not. Erin Wilson, manager of The National, said she has not seen any business struggles at The National, even with unhealthy restaurants moving in. Its customers can expect fresh and healthy food and go there for that reason.
During lunch, The National offers two healthier food choices such as the Power Lunch and the Super Bowl which are vegetarian dishes and feature locally-grown vegetables. Wilson said these items are chosen more often than the hamburgers on the menu.
Another healthier restaurant is The Grit, which, according to its manager, Rebecca Beebe, is "an Athens staple."
Customers are loyal to The Grit's environment and vegetarian and vegan options.
"I think our options consist of more vegetables and fruits than more of the restaurants in town and we use high-quality ingredients on a weekly and daily basis," Beebe said.
The two restaurants are more expensive to support a healthier, more quality diet, but customers go to Eddies Calzones and R. U. Hungry to pay less and eat in a more casual environment.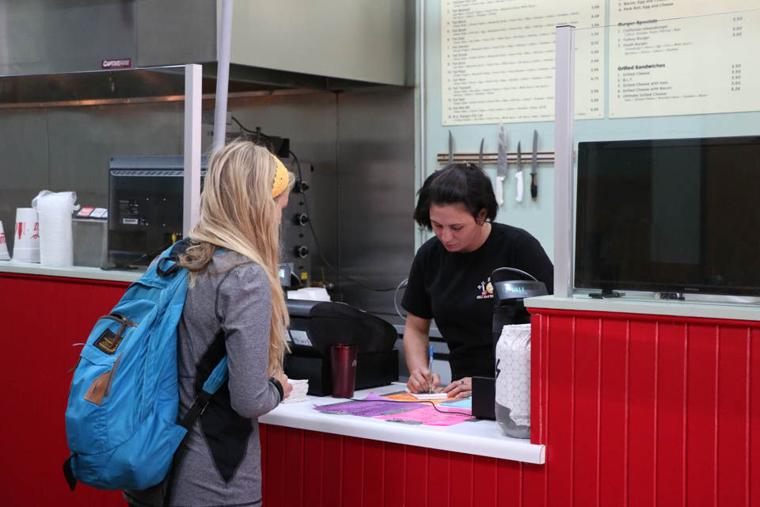 However, downtown does offer some hybrid restaurants such as Arden's Garden. With fast, cheap and healthy options, it offers the same type of quick and inexpensive menus as Eddies Calzones and R.U. Hungry, but its food options lend toward a healthier diet.
"All Arden's Garden products have natural ingredients and no added sugar," said Alaisha Wellons, an Arden's Garden employee.
Even with its smaller menu offerings and new competition, "if you're into smoothies and juice you're still going to come here no matter what," Wellons said.
Palmer Daws, a junior business management major, said he, like most people, go downtown with one idea in mind: having good-tasting food.
"When I go downtown for dinner I am looking for a good meal," Daws said. "Most of the meals are expensive so why waste money on a healthy meal when it won't taste as good as a rich unhealthy meal.
 Price, availabilty and flavor ultimately seem to be the main factors keeping downtown's fast food restaurants packed, with more eateries of the same kind likely on the way.
"People eat out for good food," Daws said. "It's easier to cook healthy at home than go downtown for dinner."